Silvery Moon Creamery at Smiling Hill Farm
Award Winning Cheese

We are pleased to announce that three of Silvery Moon Creamery's cheeses Rosemary's Waltz, Tally Ho with Peppercorn and French Herbed Curd placed at the 2004 American Cheese Society Competition July 22-24. For more information check out the judging results at the ACS website.
Silvery Moon Creamery's Cheese is available by mail. Click below to order cheese online.
Order cheese online
---
Silvery Moon Creamery is a collaboration between Smiling Hill Farm and Cheesemaker Jennifer Betancourt. Since June of 2003 Jennifer has been handcrafting cheeses in small batches here at the farm and the results have been delicious.
Each batch is individually distinct, reflecting the character and flavor of the land. Stop into the dairy store and try some today, order our cheeses directly online or look for our cheeses at a store near you.
Our cheeses can be found at:
K. Horton's in the Portland Public Market
Whole Grocer in Portland
Wild Oats in Portland
Royal River Natural Foods in Freeport
Morning Glory in Brunswick
Five Islands Farm in Georgetown
Morning Glory in Bath
Blue Hill Coop in Blue Hill
Treats in Wiscasset
Enoteca Italiana, Kittery
Venda Ravioli in Providence
Farmstead in Providence
Milk and Honey in Tiverton, RI and other fine shops.
Ask for Smiling Hill Farm's cheeses by name...you won't be disappointed!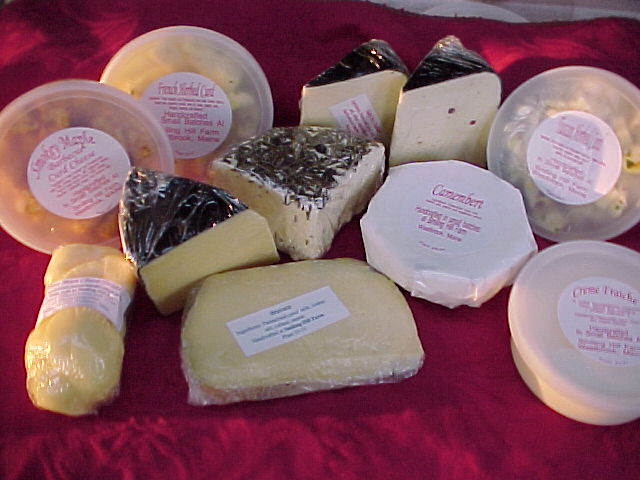 The June 23rd issue of the New York Times featured an article by Marian Burros on New England's Artisanal Cheeses. Marian visited our farm and gave glowing reviews of our Bravura, Brie and Camembert.
The November 7th, 2003 issue of the Portland Phoenix has a great article on Maine cheeses. Cheesemaker Jennifer Betancourt is on the cover and the article contains rave reviews of our farmstead cheeses, as well as the promising cheese scene in Maine.
In May, Jason Ryan visited the Saco Farmers' Market. Read is rave review of our cheese and check out the rest of his gastromancer website while you're at it.
This summer we are participating in three farmers' markets: Falmouth - Wed. 2-5p.m., Saco - Sat. 7a.m.-12 noon, and Cumberland 8:30 a.m. - 12 noon. Stop by and see us!
We are thrilled that in June 2004 our Fresh Cheddar Curd was featured at La Kermesse in Biddeford, Maine (June 25-27). There the Franco-Americans enjoyed it in Poutin (french fries topped with fresh curd and gravy).
Please stay tuned as other cheeses become available. Join our cheese email list to receive periodic updates from our cheesemaker.
Join Our Cheese News Email List/Email the Cheesemaker
Read about our cheesemaker